Known mostly for his 'couture' approach to leathers, his predominant fetish, Denis Gagnon is one of Canada's most renowned fashion designers of his generation. Collège LaSalle is where Dennis developed his passion and honed his skills for fashion.
He began focusing his time on his artistic nature, putting his natural talent for fashion in the passenger seat. More than a decade later, Mr. Gagnon launched his solo career. In 2004, he became a supplier at Holt Renfrew, providing the store with two collections, annually. Fashion Television commemorated Denis in 2010 on his 10 year career.
We present you an exclusive interview with Denis Gagnon, courtesy of SSENSE:
Learn more about Denis Gagnon on his official site.
Your career began when you were designing costumes for the theater – what were some of your early influences for costume design?
I was designing costumes almost twenty years ago now, and I think I chose that path because I've always loved clothes and I've always loved costumes. I think it's possible to recognize that love and that inspiration in my clothing and collections. For me, the best part about this industry and this career is the runway show, because the presentations are very theatrical, very magical.
You've designed costumes for PPS Danse; do elements of costume design and its production manifest themselves in your collections currently?
Yes and no…
What about in your runway shows? Do you find that it's similar to on-stage shows in terms of the creative process or the actual production?
In a way, they are similar. But the thing about runway presentations is that we have one shot, one chance and it has to be perfect. At Fashion Week or at any runway show, we're given ten minutes, so there's a lot more pressure. It's not like at the theater, where you'll present many times and the show is put on over and over again – you get to learn from it each night, correct mistakes and figure out what you'll do differently the next night. The theater is very fun, but it's different. It's runway presentations that I really love; the crowd, the models, the journalists, the music, the atmosphere.
Moving back to your relationship between the theater and fashion, what value do you place on "theatricality" in your shows?
There's always a subtle reflection of the theater or theatricality in any kind of show but I think it depends on a lot of factors, you know, it depends on your models, your theme, your setting and especially, it depends on what you want to say with your collection. Personally, the next show that I'm going to present is going to contain a lot of theatricality: I'm going to use such a wide variety of people – not models, people who come from all walks of life, but there's going to be a lot of surprises, it's really going to be a performance. I think there are hints of fashion, and of theatricality, in everything.
You took a break from design in 93 to teach in Morocco, how did the opportunity come about? What did you take from the experience?
Actually, it's quite simple, the arts school in Morocco – a division of Lasalle College – needed teachers, but it was difficult because not many people wanted to leave their home and their families for the three year contract. I accepted because I wanted to learn, to experience. But…I'm not very patient. Especially with people who just don't understand! So, I was not a very good teacher. But, of course, having the chance to teach and live in Morocco was a wonderful opportunity. Traveling in general is like, wow, you know? I think that people who are forever in one place, who don't go anywhere are often very closed-minded – very stupid. My time in Morocco was very rewarding in terms of the experience itself, but I definitely prefer Montreal!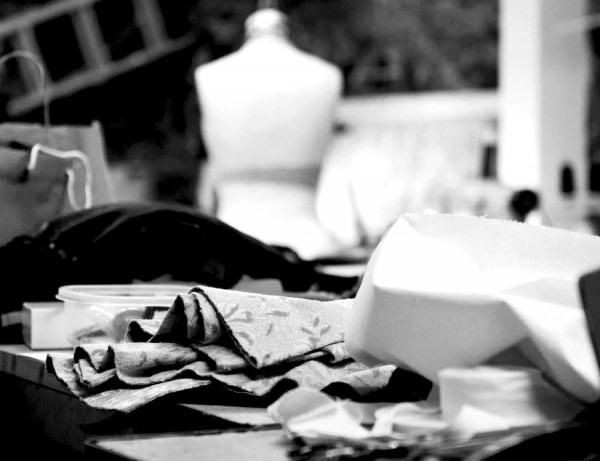 Was it something you had always wanted to do?
No! I had never planned on it but I ended up spending almost four years there. When I came back, I made the decision to start producing my own line because I felt like…there was a lot I wanted to say.
Montreal is quickly growing to become an influential city in the arts, how do you feel about being based here?
I have a relaxed lifestyle here, une belle qualite de vie, and I get to meet a lot of lovely people who lead the same kind of life. But the fact that Montreal is French-Canadian, the Latin influence, that puts us kind of in limbo between American culture and European culture, which I think is definitely a good thing but at the same time, we are not either or.
You've said that you design to compliment the beauty in every woman, that there isn't really an established "Denis Gagnon woman". Who do you envision wearing your clothes?
I don't know that I design with someone in mind, but it is definitely always a surprise to see who comes into the boutique, you never know who will be a fan of your clothes! [laughs] Of course, it's not like if someone really hideous comes in and wants to spend $2000.00 on a piece we'll say, "No! You can't buy that!" – I just mean that it's interesting to see whose style you appeal to; we have a very diverse clientele. I've learned that my clothes are meant for almost anybody.
Does the absence of a Denis Gagnon woman make your creative process easier or more difficult?
Well…working without a Denis Gagnon woman, I think would be very difficult if I didn't have a muse, which I think is very important.
And who would you say is your muse?
Yso (Siphay Southidara, Gagnon's former business partner) is my muse. I love the person that he is. We really understand each other, and Yso is someone that really inspired me early on in my career – in fact, he is someone who continues to inspire me. He still works with me! He's very androgynous, very in between man and woman, which I think is reflected in my collections.
In 2010, you had an exhibit at the Montreal Museum of Fine Arts called Denis Gagnon S'Expose. After the YSL retrospective, this was only the second time that the MMFA had included fashion in its exhibits. This was a huge moment for the fashion industry in Montreal – tell us about the experience.
Actually, I was very, very lucky, it was an incredible honor to present my exhibit between designers like Yves Saint Laurent and Jean Paul Gaultier. What did I take from the experience? Well, undoubtedly this was a plus for my career and I think it was an exhibit that worked quite well in that sense, in terms of exposure. It was truly a gift. Naturally, in the early stages, I had a lot of insecurities – "Why me?" "What do I have to tell or show people?" – but it went well and I feel very lucky to have had that opportunity.
Were you happy with the exhibit? Can you tell us a bit more about what the set up was like?
I was very, very happy. When I went to take the clothing out of the installation, I was so sad! I wish it could have been a permanent exhibit! The aesthetic was very simple, very stripped-back. There was a large pyramid structure in the middle, surrounded by past collections and pieces, along with projections by Martin LaPorte, scenography by Gilles Saucier and music by Christian Pronovost.
You mentioned the Jean Paul Gaultier exhibit, De La Rue Aux Etoiles. Jean Paul Gaultier is someone you've cited as one of your influences – how did it feel to be showing alongside him?
It was…wow, for sure, I was very touched. Very touched. I had the chance to meet Jean Paul, actually, and to show him my exhibit, which he really enjoyed. I would say that it was easily the best experience of my life, so far.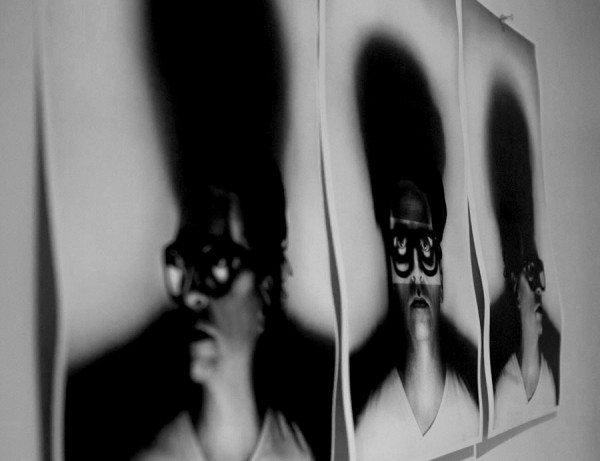 You've collaborated on a very wide range of projects, how did the collaboration with Lancôme come about? What was it like to work on the cosmetic line – how would you describe the mission of the collection?
It was very interesting to work on a different kind of beauty. I think the mission, for me, was to highlight a different kind of beauty than I usually do. It's a new world, with a whole new clientele so it was very much a learning experience; it's good to have a hand in many areas. It also helped spread the word about my own label, it was good for the brand.
Was it difficult to form a partnership with such an established, commercial brand?
Not as difficult as you might think. In the beginning, the hardest part is paring down your ideas – you'll have a million concepts you want to explore and working with Lancôme, I really had to curate my ideas. What I found most intriguing about the partnership was the difference in commercialization, which is completely different for beauty products. The production is the hardest part of designing a collection, and when you partner with an established house like Lancôme, you create the samples but there is no self-production.
Leather is your self-described fetish material and is very much a la mode today – do you think people will tire of it?
Well, you know how much I love leather. I've been using leather since the beginning, and it's always fun – it's timeless. It's very classic – I don't think that it's going anywhere any time soon.
What is it about working with leather that you find so intriguing?
Leather is a second skin. That's really the reason…you can mold it and shape it and really make it part of the wearer.
How are you able to continually incorporate it in new ways, despite actively using it for so many seasons?
I've done everything under the sun with leather, and there is no end to the treatments you can give it. I've soaked it in water, I've burned it, I've painted it, I've torn it, I've done everything. I've used it in every single collection since the beginning. With design, it's very cyclical, and I'm very emotive so my designs go through eras or periods just like I do. They will start out very simple, and evolve and evolve and then revert back to simplicity.
Your Spring/Summer 12 collection incorporated a floral print that was a very unexpected element from you, with previous collections being notably darker and more subdued – is this something you'll continue to explore in future collections?
No! Never. The Spring collection really reflected the setting I presented it in: it was early in the morning, there was champagne and lots of sunlight. I thought I was in London [laughs] but no, I won't work with prints like that again. In my next Spring collection, I have a motif that I'm using taken from a photograph of my mother when she was young. My mother will be 86 this year, and I went to see her a couple weeks ago and looked through some of her old photo albums. The images were very beautiful so I used them as a print but in a much more polished, graceful way.
Is there always such a personal element to your collections?
Well, there is a lot of love in that collection. Most of the pieces were made here in my atelier at the boutique, and the fabrics were cut by me, sewn by my team and I. The production is, of course, very personal. We work very hard – my design is truly my passion. But the design…I try to ensure that my collections are not too personal, they have to be geared towards the customers and the audience.
Fall 12 marks the first time in eight years that you've re-incorporated menswear into your collection – what was the thinking behind its return?
I wanted to dress myself! It's hard because I'm getting old and I'm getting fat! That's the bad thing, when you start to get a stomach! I'm 50 now, and when I was younger I was very svelt so to dress myself now is quite different [laughs]. I've always wanted to make the return to menswear though, and I did so this season unassumingly and without pretentions.
And for next season?
Yes, for Spring there will be menswear, but for the future…we'll see.
Some of your menswear looks retained a lot of the qualities of your womenswear – your collection seems almost androgynous.
I always try to fit some elements of each in the other. The menswear has some womenswear components, and the womenswear is sometimes masculine, but I try to find a synergy between the two.
What are your favourite pieces from Fall 12?
My favorite pieces are the Olive Leather Trimmed Hooded Vest – which I'm working on a version of for Spring. I love the oversize pieces as well, the leather trimmed shirts that are kind of striped. All of the striped pieces, there are some for men and some for women, I love, as well as the threaded sweater with the zippers. Very subtle but very chic.
With all the projects you've worked on so far, and the successful opening of your boutique in Old Montreal, what's next for Denis Gagnon?
I want to take Denis Gagnon to the next level, I always want to keep growing and keep expanding.