A new camera appeared on the market last week, perfect for bloggers and photo enthusiasts who wish to capture their moments hands free. It's very small but extremely sophisticated. The Autographer is a one of a kind wearable camera with a wide-angle lens that is perfect for anyone on the go.
Intelligent Sensor
Inside this 3.5″ device is a frighteningly sophisticated sensor that tells the camera when to capture the perfect shot. The camera also includes a tiny GPS chip as well as the ability to log the weather of each photo.
If you are a person who loves to blog your life via photos, this will free you from worrying about having to snap away constantly. The Autographer will take pictures automatically, so you can enjoy what you're doing. The battery will last an entire day of photo taking on one single charge.
Smartphone App
The Autorgrapher has a smartphone app that connects the camera to your mobile device via Bluetooth. You can browse, preview and share all of the images when you're on the go. The app allows you to adjust capture settings, check memory and battery life with ease.
The Autographer also has a stop-frame GIF creator so you can create animated photos, ready to share.

Stream View
Displays images in an endless chronological stream.
Calendar View
Displays images by date or by event.
Cinema View
Display images in full screen mode and enjoy the slideshow. Sensor readings are displayed alongside each image along with location, light levels and temperature.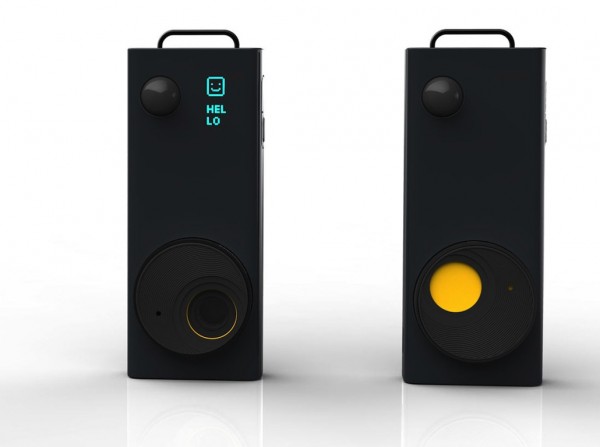 Design
The final design is visually clean; the body appears relatively minimal, contrasted with the stronger and clearly identifiable Autographer eye lens detail. To achieve this we have used innovative plastics, precision metals and hidden displays.
Tej Chauhan, ChauhanStudio
The design is versatile; you can clip it onto your clothes or wear it around your neck. This is a very cool gadget that might just reinvent photography.
Specs & Features
8GB internal memory
5 on board smart sensors + GPS
(ambient light / accelerometer / magnetometer / PIR / temperature)
Bluetooth
136º field of view
Glass hybrid wide angle precision optics
Fixed focus
5MPx low light sensor
Dedicated smartphone app
– view, tag and share the images.
Weight: 58g
Width 37.4mm
[with side buttons],
Length 90mm; 95.5mm
[with lanyard ring],
Thickness 22.93mm
[with clip and lens]
The Autographer is scheduled to release in November 2012, for £399 ($645 USD)
Available online at Autographer.