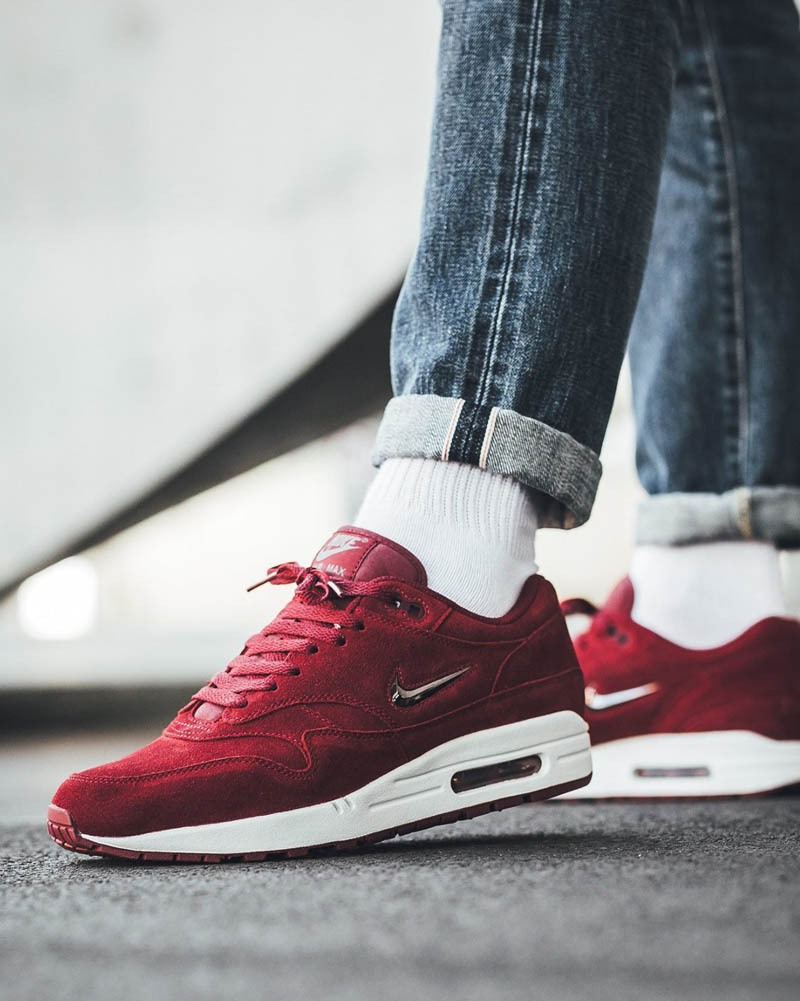 Premium suede with a shiny Nike Swoosh.
Feeling down and unmotivated?
Is your confidence at an all-time low?
There's a quick and easy fix…
There's nothing that can build your confidence (and mood) faster than a brand new outfit. It's like a drug that you wear. Ironically, spending all that money will make you broke…which will leave you feeling sad and depressed…which will put you back at square one.
So if buying an entire outfit is too expensive, how else are you supposed to become confident and happy? (Without being left as poor as a Church mouse)
It's easy.
If your outfit is in desperate need of livening up…
START WITH YOUR SHOES!
Your shoes are the most important part of your outfit. They're the first thing anyone notices (sometimes they're the ONLY thing anyone notices). And there's no better way to freshen up your shoes than to add some contrast.
The latest NIKE Air Max 1 Premium SC offer some contrast of its own, to help balance out any unwanted dullness in your wardrobe. The rich suede leather uppers stand out thanks to NIKE's mini 'jewel' swoosh. It's glossy! And it's the perfect ingredient to balance out a matte suede finish.
It doesn't just look good (and help you look and feel great), it's also comfortable. It's built on top of a soft foam foot bed, which sits on NIKE's patented Air cushioning technology. Try it once and there's a high chance that the Air Max 1 will be one of your most comfortable sneakers you've ever worn.
It's available now, in a holiday colorway: red, green & shine – a colorway that will cheer you up instantly, without leaving you broke.
Buy it at NikeUK | NikeUS | FinishLine | END. | SNS