If you've been reading up on your perfume game, you'll know that the CREEDs are considered kings when it comes to natural smelling & safe scents.
What we mean by safe is, you can buy a CREED for yourself (or as a gift for someone else) without having to smell it first. Because everyone who smells a CREED fragrance usually loves it. They also smell unique. They don't smell like the basic fragrances that everyone wears. Which means YOU won't smell like everybody else. The only downside, these fragrances are very expensive.
But don't worry. We'll show you three great smelling alternatives that smell like the real deal…but are much more affordable.
Here we go.
Love & Luck from Ed Hardy vs. Millésime Impérial from CREED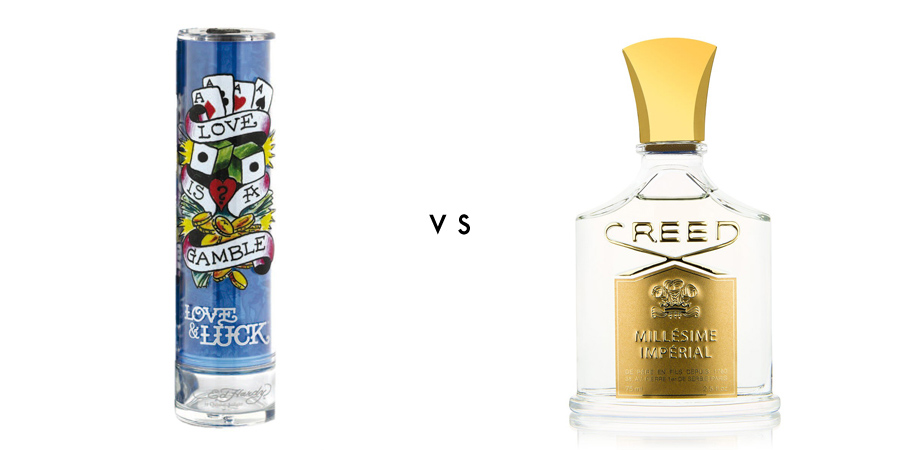 Love & Luck has been compared to Millésime Impérial on more than a few occasions. We decided to test these two fragrances head-to-head and see how they compare. A bottle of Millésime Impérial retails at $320 (4.2 oz) but can be purchased online for about $160 while a bottle of Love & Luck retails at $95 (3.4 oz) but can be purchased online for about $35.
Initial Spray: very similar to MI, slightly harsher and more synthetic melon note
15 Min In: smells more similar to MI, less potent
40 Min In: hints smell identical to MI, undertones of harsh and synthetic melon
2 Hours In: very faint, close to the skin

Initial Spray: fresh melon and sea water, very well done
15 Min In: smooth, fresh sea water & melon
40 Min In: toned down, smooth and luxurious aquatic scent
2 Hours In: natural and a lot stronger than L&L

Winner: Millésime Impérial
Love & Luck is a great smelling fragrance and for the money you're spending, it's hard to beat. However, Millésime Impérial is just such a natural smelling aquatic fragrance that it beats Love & Luck out of the water. If you have the money to burn, grab a bottle of this stuff. It is one of them most versatile fragrances ever. If you're on a budget but like the smell of Millésime Impérial, Love & Luck is a no-brainer.
Monsieur from Balmain vs. Bois de Cedrat from CREED
Bois de Cedrat is not as mainstream as some of the other CREED scents but it is one of the freshest and natural citrus scents you can purchase. A bottle of BdC retails at $185 (2.5 oz) and is almost impossible to find online at a discount price. People who fall in love with this short-lasting fragrance get discouraged form purchasing a second bottle. The French fashion designer house, Balmain has a very similar scent that won't put a dent in your wallet. A bottle of Monsieur by Balmain retails for $95 (3.4 oz) but can be purchased online for about $40.
Initial Spray: very strong lemon smell, similar to a lemon drop candy
15 Min In: fresh, non-synthetic lemon scent that offers hints of tea/rose
40 Min In: lemon subsides, a floral rose scent begins to evolve
2 Hours In: the lemon comes back, the scent is stronger & longer lasting than BdP

Bois de Cedrat
Initial Spray: Smooth lemon scent, not as sour as Monsieur & somewhat creamy in comparison
15 Min In: smooth and subtle lemon scent, very linear
40 Min In: linear and begins to get closer to the skin
2 Hours In: remains unchanged and sticks close to the skin

Winner: Monsieur
Monsieur is niche quality. This is an amazing lemon scent that any citrus fan will adore. Unlike BdC, this one morphs and changes over time. The staying power and projection are also noticeably better than the expensive bottle of CREED. Bois de Cedrat is a wonderful scent but it's hard to justify paying $185 for a 2.5 oz bottle that will only last about 4 hours on your skin. Monsieur is the winner by a landslide.
Individuel from Mont Blanc vs. Original Santal from CREED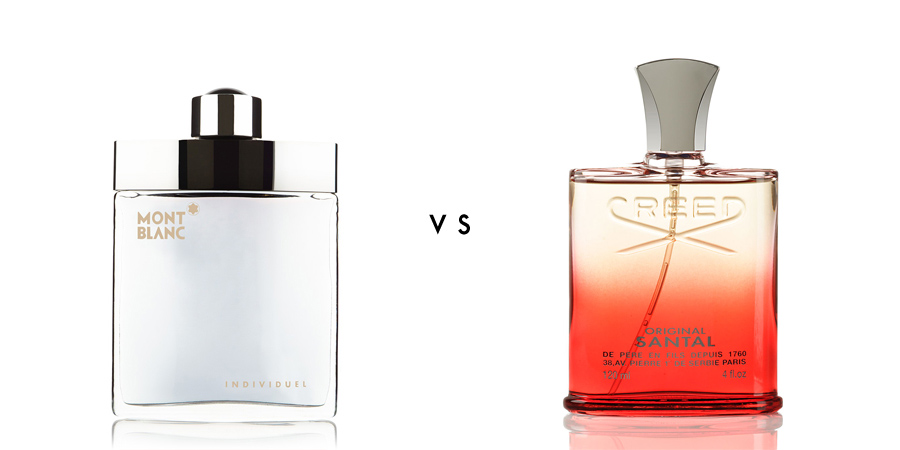 These two have been compared in the past, some argue that Creed copied the understated Mont Blanc. This is your perfect "night out" fragrance, it is masculine yet sweet and spicy. A bottle of Original Santal retails at $330 (4.2 oz) but can be purchased online for about $190 while a bottle of Individuel retails at $70 (3.4 oz) but can be purchased online for about $35.
Initial Spray: almost identical to OS
15 Min In: a softer, less offensive version of OS
40 Min In: smoother and much more pleasant than OS
2 Hours In: a much more natural version of OS

Initial Spray: slightly sharper than Individuel
15 Min In: sharper
40 Min In: a harsher & semi-synthetic note appears
2 Hours In: very similar but not as good as Individuel

Winner: Individuel
The longevity on both fragrances is excellent, and at times Mont Blanc and Original Santal will smell identical. As a matter of fact, if you're not comparing them side by side, you won't be able to tell which is which. But we did favor Individuel by a slight margin. It smells slightly better and more natural. If you're a fan of CREED and don't mind spending $200-330 on a bottle of perfume, go for Original Santal; otherwise grab a bottle of Individuel, you won't be disappointed.
Do NOT purchase fragrances from eBay unless you know, for certain, you are dealing with a reliable merchant.