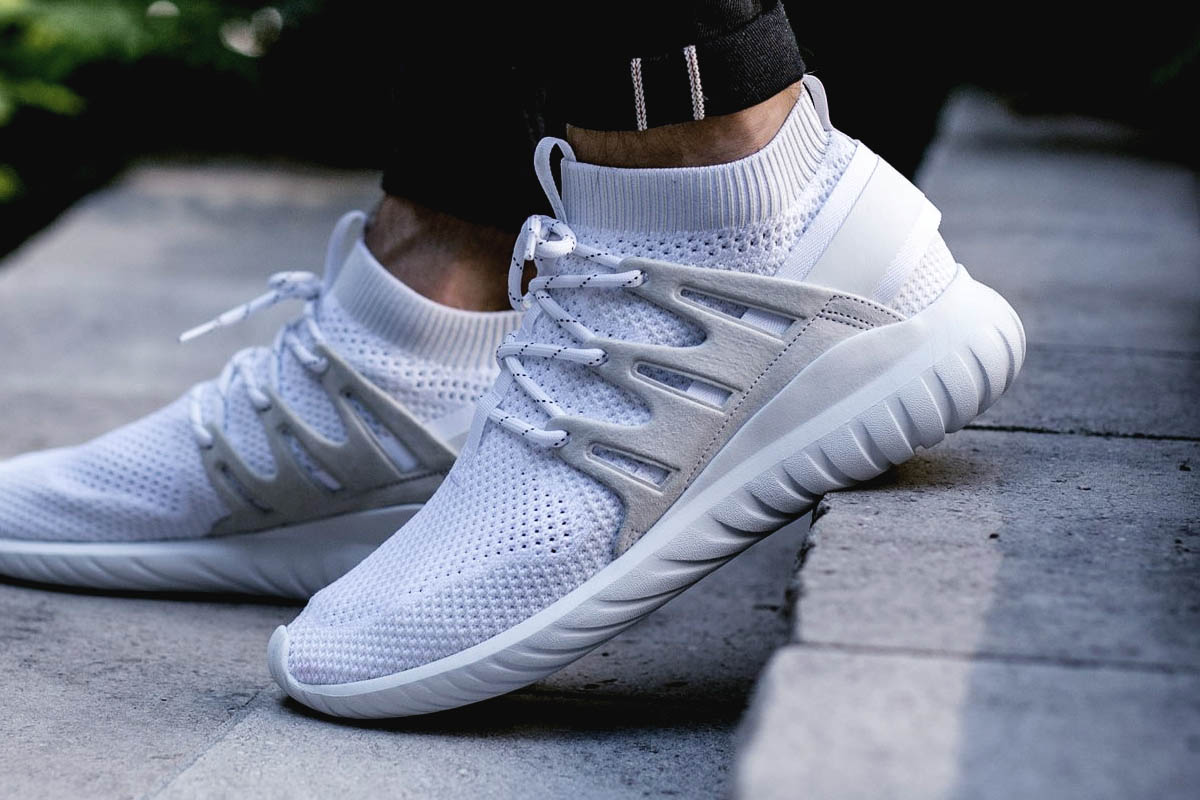 Flexible mesh will prevent your feet from overheating.
Crisp, clean and now in all-white! The newest release of the Tubular Nova Primeknit comes in an extremely summer friendly all-white colorway. Aside from looking exceptional, there's a level of functionality that makes this one of the best sneakers for this summer. We'll give you a rundown as to why the Adidas Tubular Nova PK 'All-White' needs to be in your current summer sneaker rotation.
White, not black…
Ever wonder why you get so hot wearing a black shirt in the sun? It doesn't matter how thin the fabric is, black is always a terrible choice for the summer. This is because dark colors attract light. They eat it up! And along with the light, they are absorbing all of the heat. You won't have this problem with the all-white Tubular Nova PK. A crisp white colorway will reflect the heat, ensuring your feet stay cool and comfortable all day long.
Flexible mesh prevents feet from overheating
Primeknit – another reason why the all-white Tubular Nova PK is ideal for the summer. Primeknit offers thousands of tiny mesh particles that cool your feet. And because it is a flexible fabric, the mesh shrinks and expands with each step. It feels like a custom fan that targets hot spots on your foot, preventing overheating. Primeknit is also extremely lightweight and sew-less. Not only are you getting a comfortable and lightweight shoe, but it also looks very sleek.
This pair is topped off with thick Yeezy-esque dotted laces. A heel strap offers ultimate support on the heel while the cage lacing system adds a futuristic look. The bottom of the shoe sports an all-white tubular sole – the same technology as in the Yeezy Boost. It's versatile and can be worn with virtually anything. The all-white Adidas Tubular Nova Primeknit needs to be in your summer rotation!
Buy it at SSENSE | END. | SNS | Adidas | ASOS