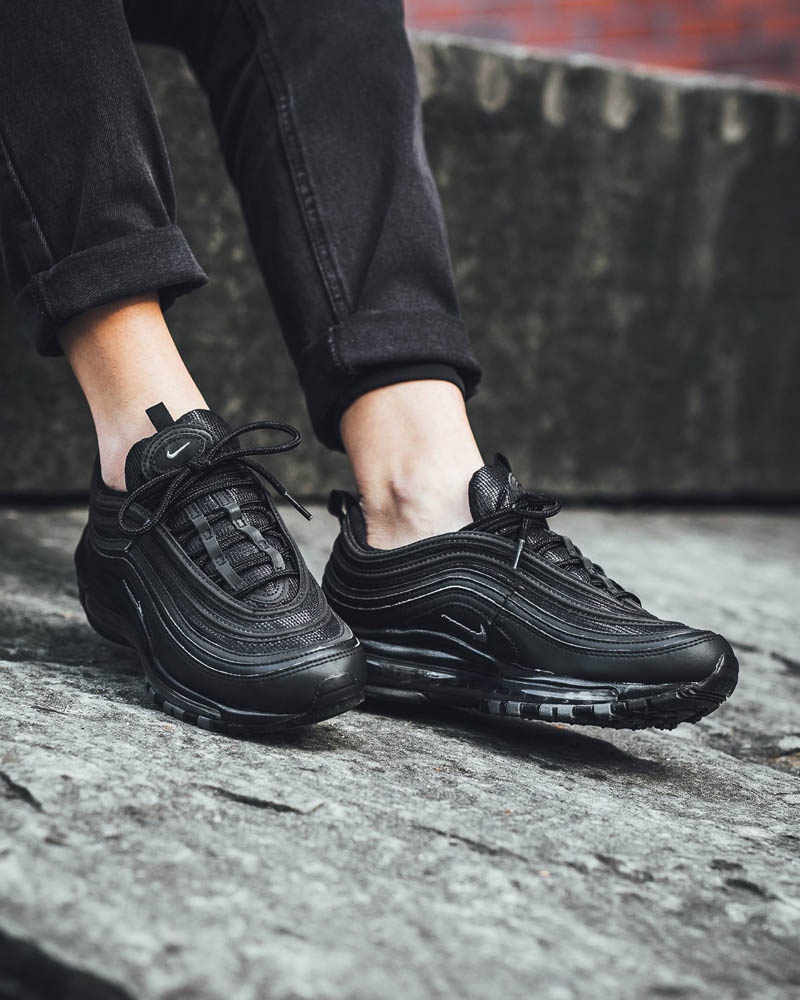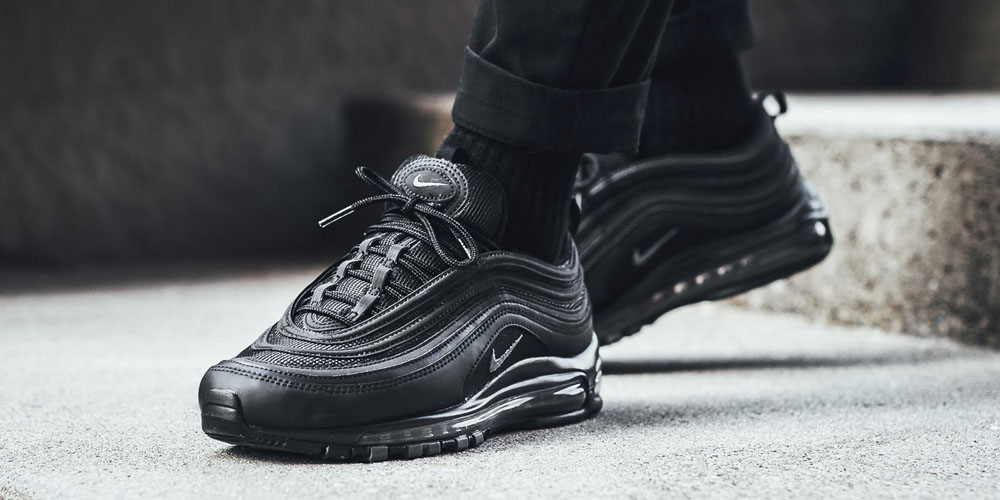 Can you guess what the number one problem of owning a running shoe is?
Think for a moment. The problem is so obvious, so in front of your face that it's overlooked by nearly everyone who's ever bought a pair…everyone including you!
Answer: Running shoes have ONLY one purpose!
A running shoe's sole purpose is to make you run as fast and for as long as possible. That's it! They're not meant to look pretty. As a matter of fact most of them are so ugly that they can't be worn with anything else. So why waste money and closet space on a shoe you plan on wearing just a few hours a week?
Wouldn't it be smarter to buy a shoe that you can…wear with whatever you want…look amazing…feel comfortable…and take out for a take for a run?
Nike just released the latest Air Max '97, in a stunning and versatile 'Triple Black' colorway.
This shoe is beautiful.
The updated version is even better than the original!
You'll immediately notice how much more comfortable the Air Max '97 '17 is, the moment you slip your feet into it's velvety soft fabric. This is because the updated remake features responsive cushioning. Every time you put weight on your foot, the shoe will absorb the impact quickly and spring back into its original position. Very handy if you're a runner – and much appreciated if you're a walker.
The uppers are made of a textile and synthetic leather mix. The textile adds breathability so your feet stay cool while your body works up a sweat. The synthetic leather is environmentally friendly.
The new design looks just like the original but it's lighter than ever. Take it out for a run, you'll be surprised at how much quicker your turnover will be. You'll feel like you're running on clouds – sexy, black and head-turning clouds.
The back of the shoe offers a reflective heel, because running at night can be dangerous – especially if you live in a residential area. The streets are so poorly lit that it makes it impossible for drivers to see at night. With the Air Max '97, you'll be hard to miss.
The entire shoe sits on a full size Max Air sole unit. It's there to let other runners know that you're running on air…while they're running on foam – struggling to keep up.
Here's what customers are saying:
"Worth the price! They are light, comfortable and highly functional training sneakers. They also have reflective black strips for safely running at night. I'm glad I purchased these!" – Michael, Runner from California
"Extremely good looking! The reflective stripes are fantastic and overall, it's a really comfortable shoe. I wear them when I go out." – Tyler, Bar-Star from London
"The shoe's quality is incredible and I couldn't be happier with the design. There is nothing to dislike about the shoe, to be honest. I gotta say, the Nike Air Max '97 is one of the best shoes out there!" – Joanna, Runner from UK
Nike Air Max '97 'Triple Black' Colorway (2017)
Visible full-length air sole unit to let others know you choose to run on air.
Synthetic leather and textile keeps your feet cool and animals alive.
Responsive cushioning makes them infinitely comfortable.
Classic look but way lighter than the original.
Reflective heel for safe running at night.
For a limited time only, you can own this beautiful sneaker for $160 USD. Head over to Nike, select your size and hit 'Add to Cart'
Enjoy the finest, most-versatile pair of shoes on the market. They'll make you look at your old runners and wonder why you ever bought them.
A word of caution though…this shoe is a hot item and will be sold out at by the end of the month. Order your pair today, while you still can: Place My Order ASAP!