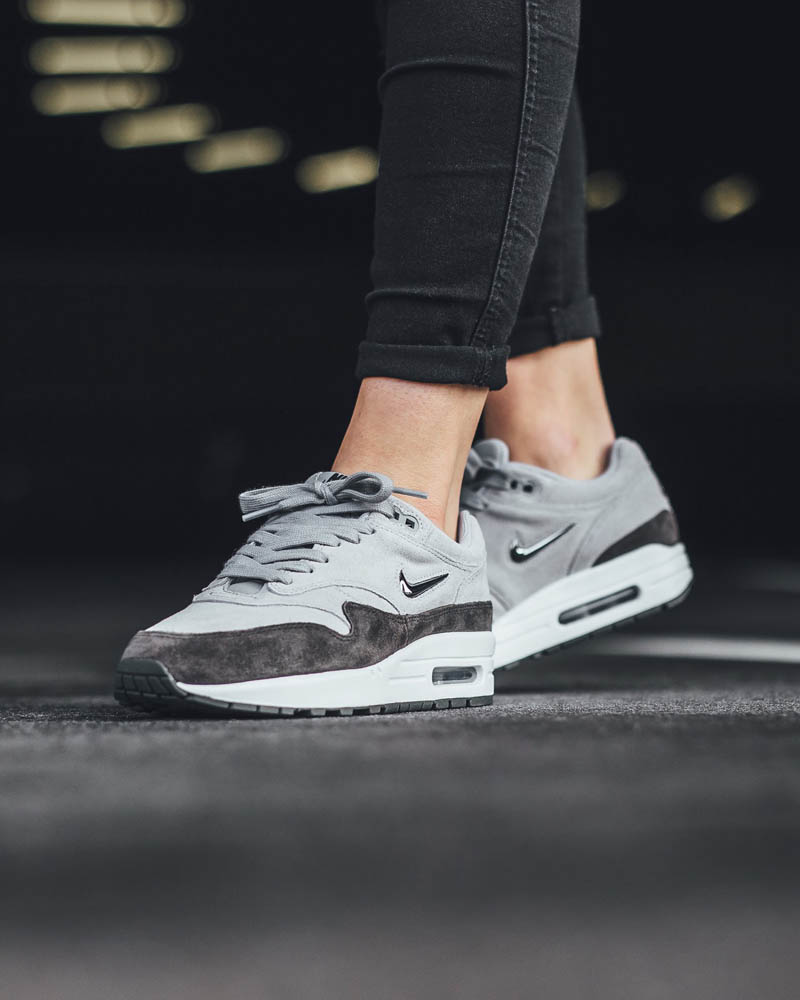 Have you noticed how any time they show the E-news 'Best Dressed' women of the week, the women ALWAYS wear something that makes them stands out?
And if you've been paying attention you'll notice that, 9-times-out-of-10 , the women crowned 'Best Dressed of the Week' will be wearing something that shines. (Shiny earrings, a shiny necklace or a sparkly dress.)
It's almost like…the one thing that establishes how well dressed you are, how much you stand out, and how beautiful you look is,
A little bit of shine.
The latest women's Nike Air Max 1 Premium SC comes with some shine of its own. The mini 'Jewel' Swoosh design features shine that will make you stands out, no matter how little shine you're wearing ankles up.
It features suede construction which means you're getting a way softer and comfier shoe. The foam midsole combined with Max Air cushioning means you're getting a lightweight and comfortable shoe. And the sole? Well…
Is there anything worse than having NO GRIP on your shoes?
Think about the last time you were out and there was a bit of rain or – even worse – ice on the ground…
You're walking down a busy street, on a Saturday afternoon, and you're ON TOP OF THE WORLD. There's still a little bit of ice on the ground from the last week's snowfall…but….you're feeling so good that NOTHING can stop you.
Before you go on and about with your day (which will consist of shopping, relaxing and maybe some drinks with your girlfriend who you haven't seen in forever), you decide to jump-start this beautiful sunny Saturday…by taking a sip of your warm-and-delicious pumpkin spice latte. (Mmmm, deee-lish!).
As you elbow your way through the busy intersection (gosh it's busy today), you notice – at the other side of the street, walking towards you – one of the HOTTEST GUYS you've ever seen.
Holy $*&% he's a babe!
(He kinda looks like that actor from that TV show…) And as you get closer (now you guys are within arm-s reach), YOU SLIP!
And land flat on your back…spilling your delicious pumpkin spice latte, all over your wool coat!!!
Since this isn't a romcom, he doesn't stop to help you up, he just chuckles as he walks by (what a dick).
So many eyes are staring at you!
Several younger kids laugh blatantly!!
Even that elderly couple is chuckling!!!
Can you imagine how terrifying and embarrassing slipping and falling in front of a large crowd can be?
The Nike Air Max 1 Premium SC features a Rubber Waffle outsole which means you'll get durable – suction-cup-like – grip that lasts. (And no one will get a chance to laugh you…because you won't slip and fall!)
And it can be yours for $130 USD. Click here to place your order at Nike US.