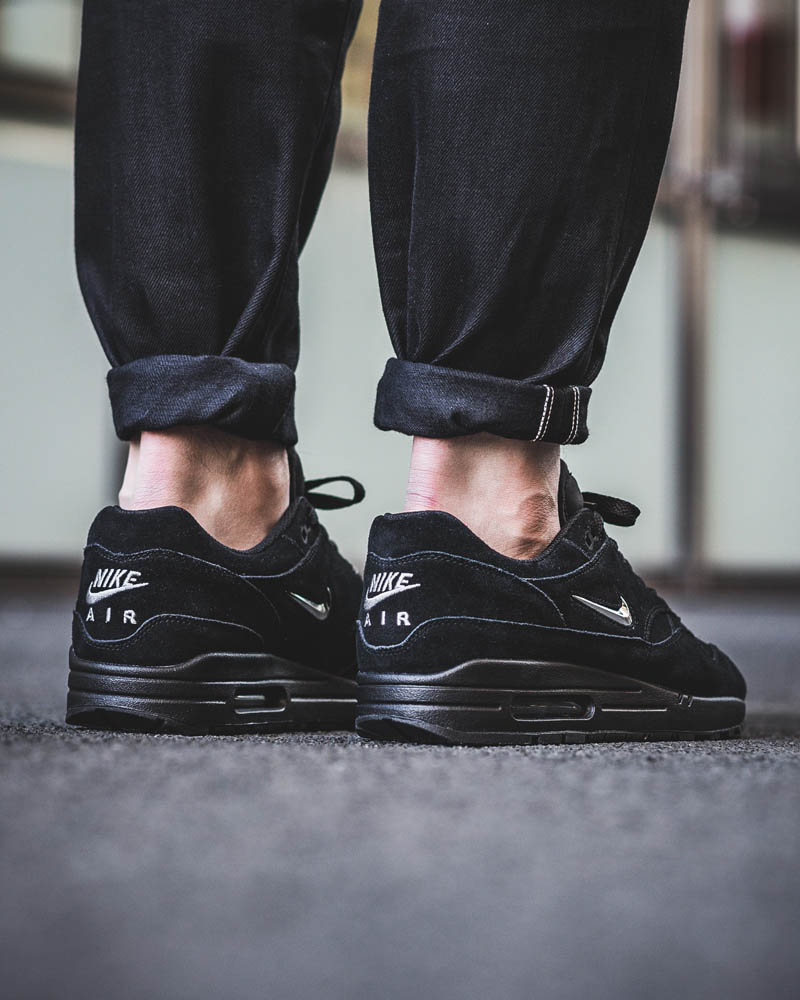 Contrast branding at the heel.
Smooth leather tongue to contrast the suede uppers.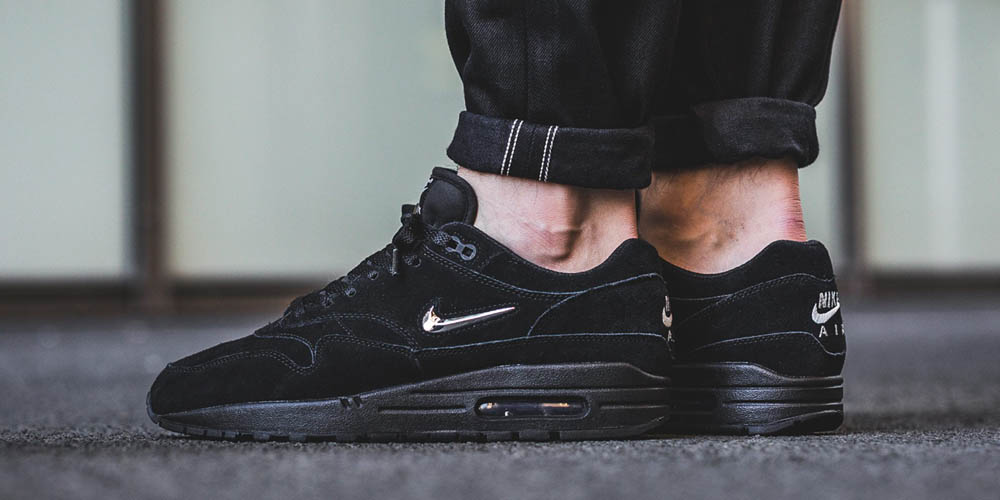 Mini 'jewel' Swoosh – in chrome – pops.
Make no mistake, this is a fine sneaker…but it does come with one fault.
The NIKE Air Max 1 Premium 'Midnight Jewel' features a lot of black. Black suede uppers with all-black stitching – even the inside of the air bubble is black. Is this a problem? No. This actually gives the retro silhouette a very clean look. White branding at the heel (and on the textile tongue) add a nice touch of contrast. But nothing compares to the eye-catching contrast you'll get from the mini chrome Swoosh. The mini 'jewel' Swoosh adds the right amount of shine to the dark mysterious shoe.
Okay. Those are all good things. But is there anything off-putting about this shoe? Well…yes. The NIKE Air Max 1 Premium Midnight Jewel's biggest fault is its lining. It's made out of textile instead of leather. How can you call yourself premium if you don't offer premium leather lining? Then again you're getting all-day comfort on one of the most stylish sneaker silhouettes of all time; for $140 USD, it's hard to complain.
The Air Max 1 silhouette was released more than 30 years ago and it's more popular today than it was back in the late '80s. And the fact that this shoe will last you more than eighteen months – if you take good care of it – makes owning one a bargain. It ends up costing you around $8 a month.
Not bad, eh?
Head over to NikeUK (or any of the below retailers) to grab your pair.
Buy it at NikeUK | NikeUS | FinishLine | END. | SNS | ASOS