"Butter Soft" Black Pebbled Leather
Mixed With World War II Technology
Green Berets… Navy SEALs… Delta Force… These are some of the most elite Special Forces in the US. They are the most bad-ass individuals on the planet. And if you're in the market for something that'll enhance your inner bad-ass, you'll wanna read the following.
Imagine walking into any situation knowing you have an armed 12-man team as back-up. They form a protective shield around you, ready to strike at a moment's notice. Private security? Your team is much tougher. That's how it feels to wear the latest NIKE Air Force 1. Now while this shoe doesn't actually come with a team, it does offer a unique twist.
At first glance, this looks like your ordinary Air Force 1. But if you look closer, something unusual should catch your eye. Look at the heel of the shoe and you'll notice it doesn't match the rest of the uppers. While the majority of the shoe is covered in butter-soft black pebbled leather, the heel is made from a weird-looking coated textile. But this isn't textile at all. It's something much stronger…
Built For War
The new NIKE Special Forces Air Force 1 (SF-AF1) features uppers made from premium leather and ballistic nylon; a heavy duty material originally created to protect WWII pilots from bullets, shrapnel and other ballistic impacts.
You're probably thinking: "Does that mean the NIKE SF-AF1 is bulletproof?"… Well…no, not quite. Ballistic nylon is damn tough…but not that tough. Unfortunately ballistic nylon proved to be ineffective against oncoming bullets. But it did thrive in a less violent environment.
Everyday Use
Ballistic nylon proved to be highly effective in protecting backpacks, luggage and duffel from everyday wear-and-tear. Much more practical for civilian application. The tightly knit basket weave pattern – covering almost half of the new NIKE SF-AF1 Triple Black – is tear resistant…in all directions.
If you're looking for the most durable fabric for your next purchase, this is it. And it's the reason the NIKE Special Forces Air Force 1 (SF-AF1) is the most durable sneaker you can currently buy. There's no sneaker tougher!
Special Forces Inspired
The NIKE Special Forces Air Force 1 (SF-AF1) comes with additional military inspiration. At the back you'll find a pull-tab – accompanied by dual zippers – making the sneaker easy to slip on. They fit snug – just like a combat boot should. Although it's not a combat boot, it's a functional mid-top sneaker made for everyday use. The ankle strap adds stability and is detachable – making it easy to clean. But here's the best part.
The beautiful thing about the NIKE Special Forces Air Force 1 (SF AF1) is the versatile colorway. An all-black shoe makes it easy to coordinate your outfit – wear it with anything – it just works.
The shoe is currently available through the NikeUS website for only $160 USD. You can give the NIKE SF Air Force 1 "Triple Black" a test run, risk free, for 30-days.
Think about it. A shoe that will outlast any other shoe you own, in a versatile colorway, with a mid-top silhouette that you'll be able to wear with anything for the next three seasons (or more)…for only $160. NIKE could've easily charged double and you'd still be getting a deal.
And if you're crazy enough NOT to love them…simply return them for a full and courteous refund – so long as you return them within 30 days.
This shoe won't be on shelves for long. So make your move quick soldier.
Buy it at NikeUS | NikeUK | SNS | FinishLine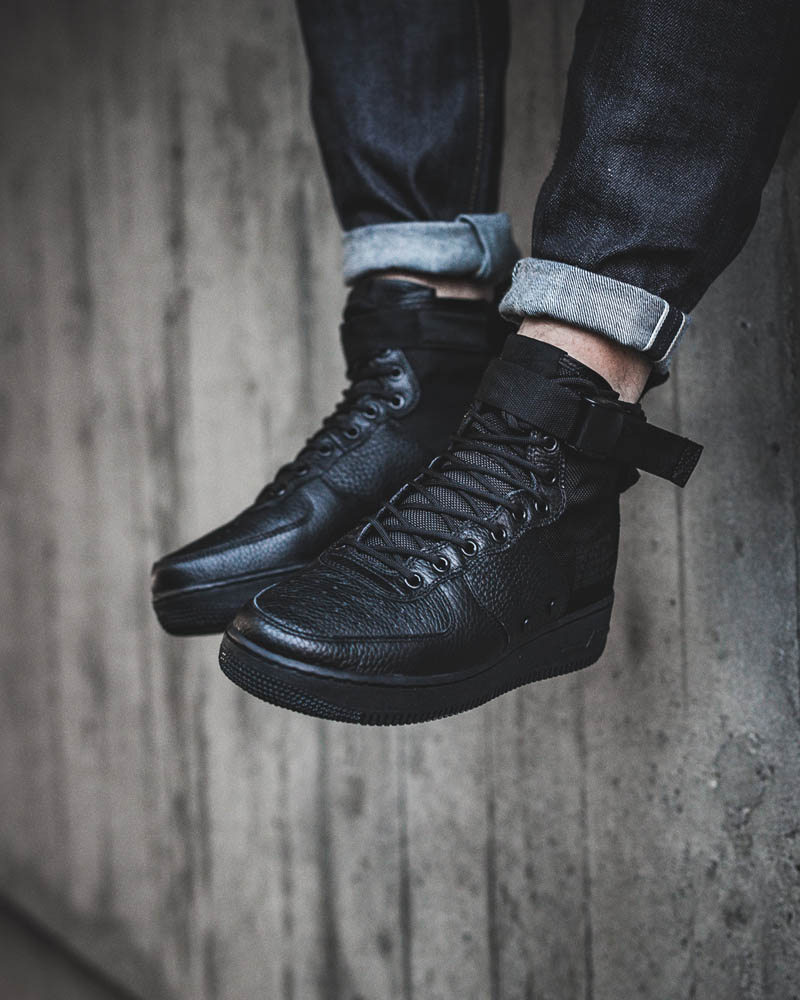 Butter-soft black pebbled leather.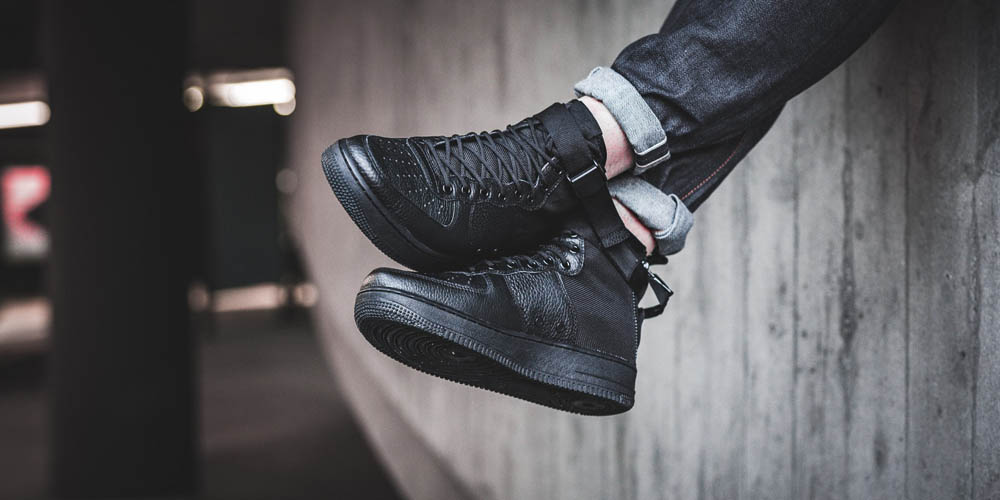 A timeless silhouette – one of NIKE's best selling shoes.